More than 20 prizes and supports will be awarded by representatives from the worlds of culture and business.
The ambassadors come from four areas: design culture, design practice, design press and design presentation and select their sponsors individually.
The winners and Green Card winners were announced on 10.10.2019 at a festive awards ceremony.
Awards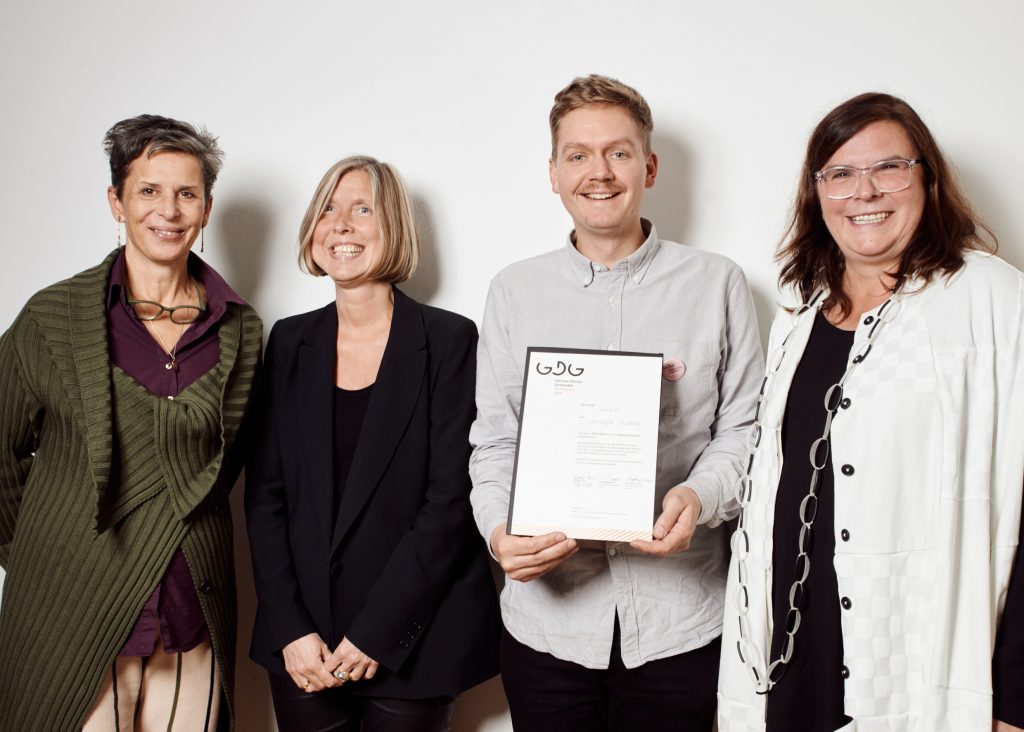 GDG Culture Prize
The GDG Culture Prize is an annual cash prize which is awarded to a project with outstanding attitude, innovation and creative impact.
The GDG Culture Prize is awarded by three representatives of renowned museums and is endowed with 2500 euro this year.
2019 the cultural award goes to Christoph Tochtrop for his project Vinson.
Vinson is a rotating device for the entire household. It consists of a drive, handle and control unit that electrically drives numerous tools. A device that makes its components available for many applications, bringing comfort, utility and sustainability together.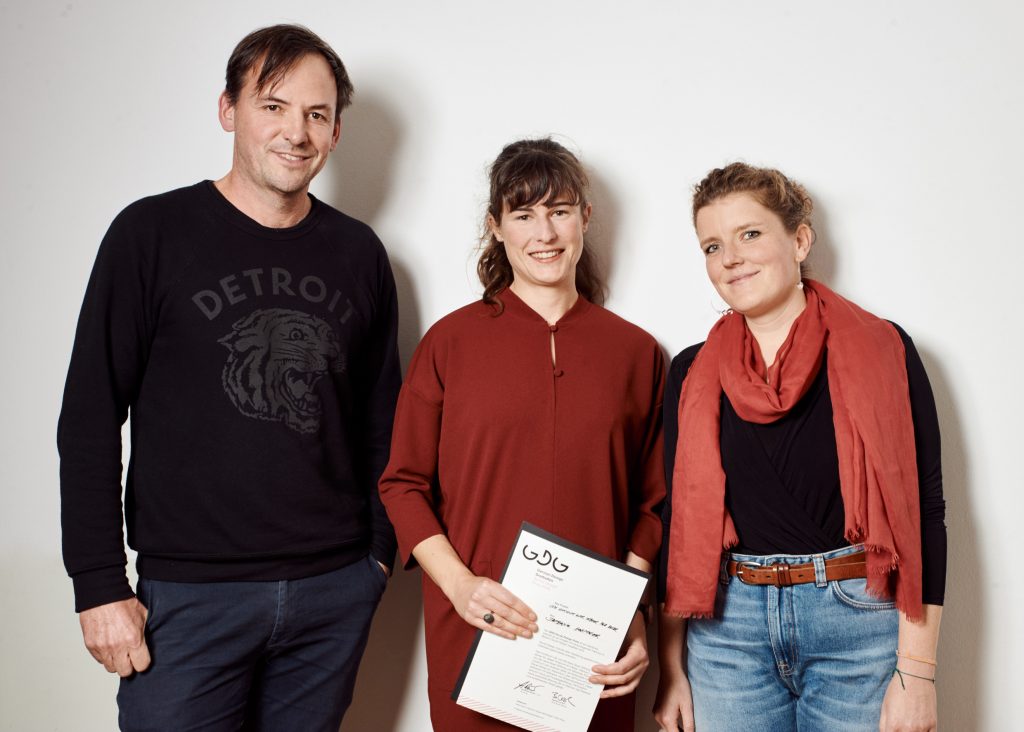 GDG Social Design Prize
The GDG Social Design Prize is a monetary prize awarded to a project with an outstanding attitude in the field of social design. Social Design wants to initiate processes of social change through design.
The Construct Lab and the Hans Sauer Foundation stand for this demand on design and so Barbara Lersch from the Hans Sauer Foundation and Alexander Römer from the Construct Lab award a scholarship of 500 Euros to a graduate as ambassadors for social design and support with networking and knowledge exchange. The focus will be on process design, participation and the potential impact of the work created as part of the fellowship.
This year the Social Design price goes to Stephanie Hobmeier with her design theoretical book Die Zukunft war früher auch besser.
This thesis observes the role of designers in societal transformation processes. By comparing the curricula of two design schools who stand up for for a changed role model in their orientation, considerations for a sustainable educational profile are developed.
Green Cards
Institutions from the field of design presentation offer selected projects space for presentation to a specialist audience.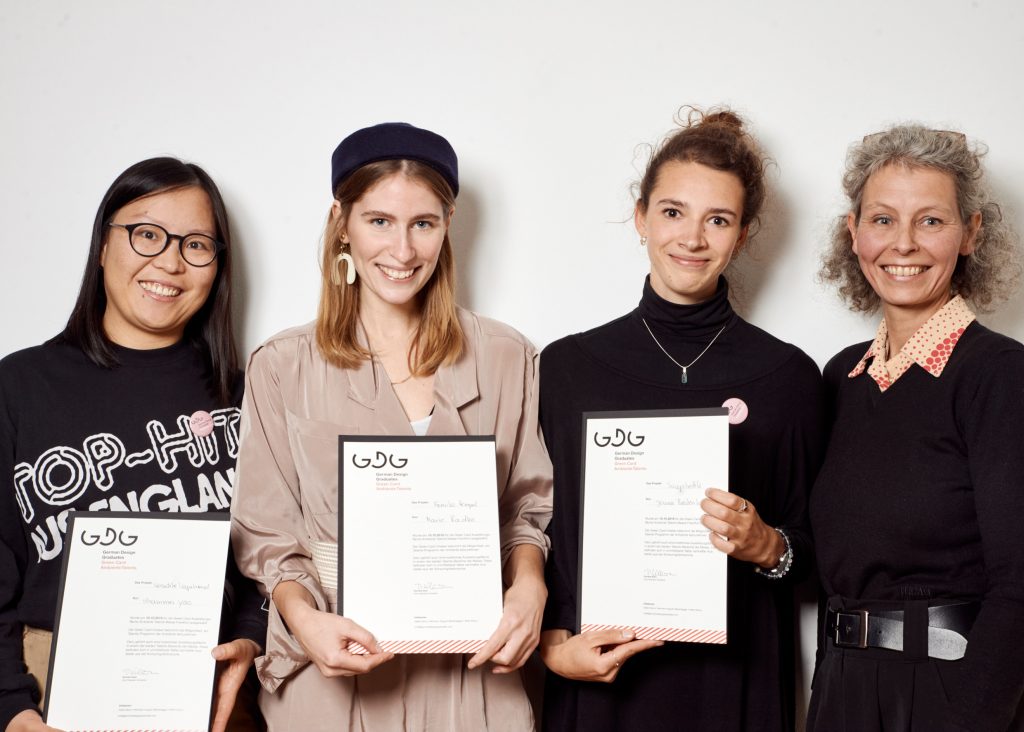 4 exhibition spots
Ambiente Messe Frankfurt
Four participants in the German Design Graduates Show have the opportunity to take part in the Talents programme at Ambiente.
This also includes a free exhibition area in one of the two Talents areas of the fair. These are located in the immediate vicinity of well-known exhibitors from the consumer goods sector.
This year Julian Ribler with Cléo, Marie Radke with Familie Hempel, Shanmei Yao with Versatile Vagabond and Jonna Breitenhuber with Soap Bottle were selected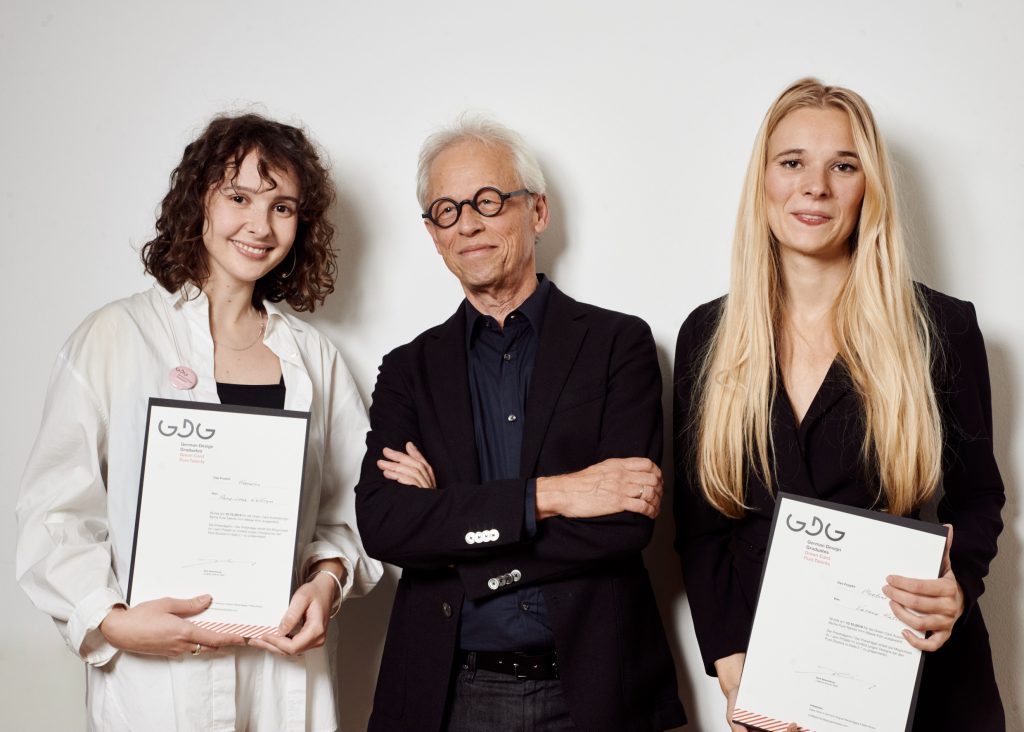 3 exhibition spots
Pure Talents, IMM Köln
The international furnishing fair imm cologne has been promoting young designers for many years with various presentation formats and platforms, of which the Pure Talents Contest for young designers, launched in 2004, enjoys a high reputation worldwide.
For the first time, the imm cologne 2020 will award three Greencards to selected graduates of the German Design Graduates Show 2019 who can present their work in the field of young design near the Pure Studios in Passage 2/3.
Selected were Anna-Lena Wolfrum with Hanako, Verena Hutter with Moebius Speaker and Lukas Winter with Fabric light.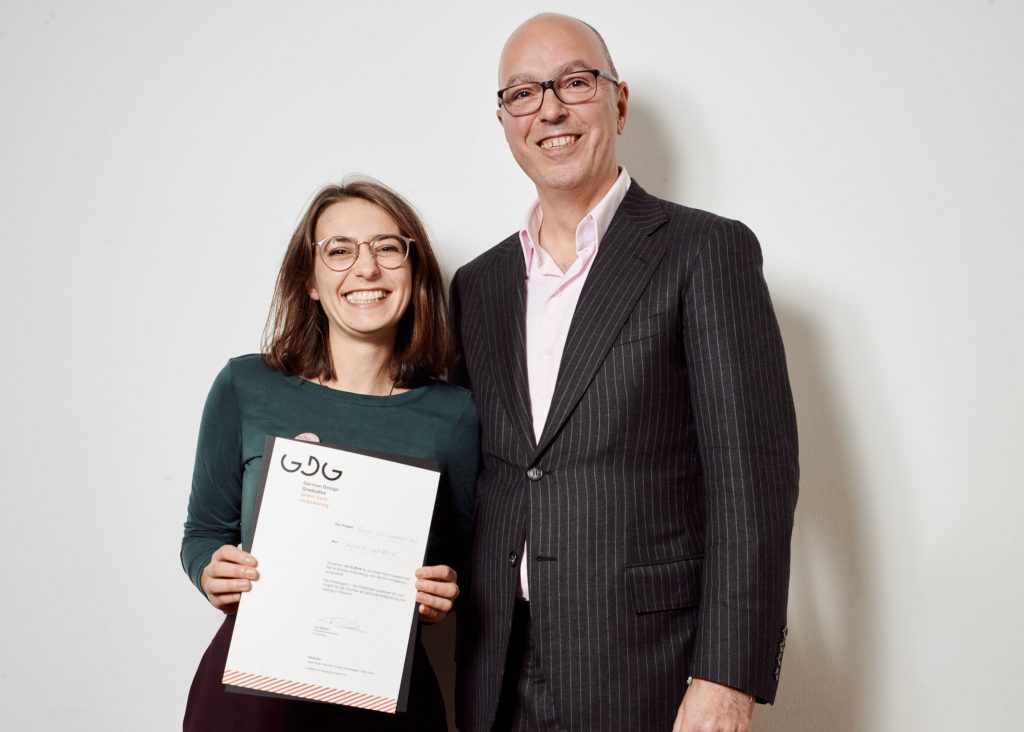 3 Green Cards Shortlist ein&zwanzig Milan
German Design Council
The German Design Council awards Green Cards to 3 GDG's for the shortlist of the annual one&twenty exhibition in Milan. With this, the German Design Council wants to help to increase the visibility of graduates of German design schools and to give them an opportunity for presentation.
Selected were Valeria Lambrecht with Piano, Dirk Biotto with Trio as well as Fabian Schmidt with Tradition im Wandel der Digitalisierung.
Supports
Personalities from design practice award prizes to give projects a chance to get into production, offer coaching or traineeships.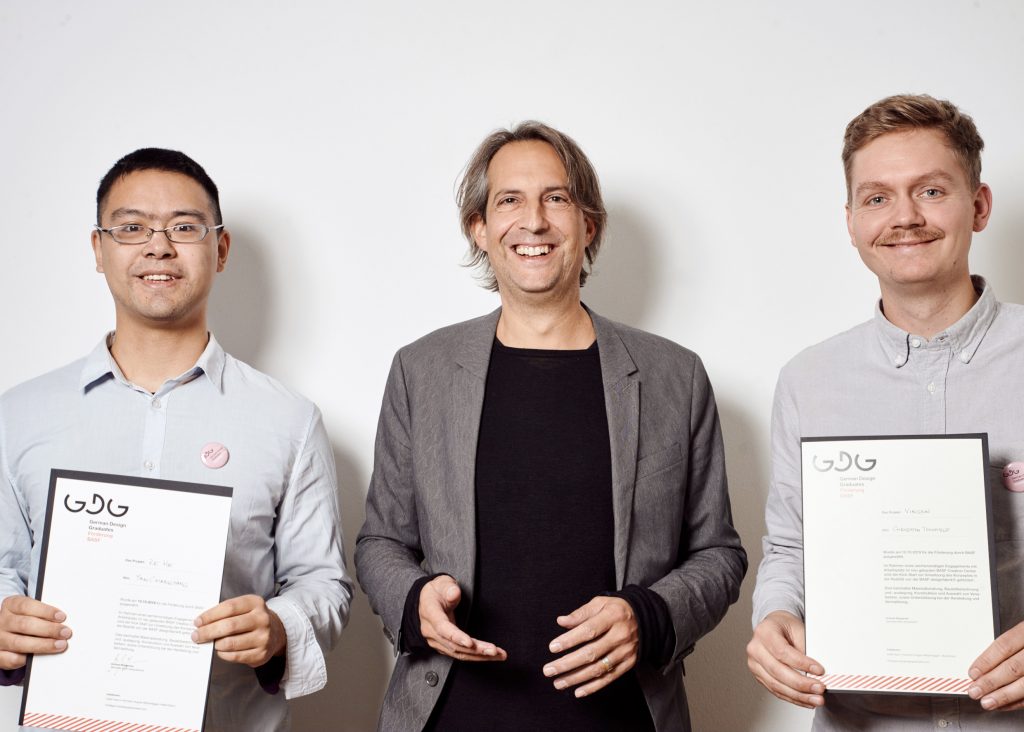 6-month work engagement
BASF Creation Centre
Within a 6-month engagement with a workplace in the newly-built BASF Creation Center the BASF designfabrik® supports the kick-start of the implementation of the concept into reality.
This includes material consultation, calculation and (re)design of the components, construction and selection of manufacturers, as well as support in manufacturing and marketing.
Selected werde Changyang Yan with Ze He, as well as Christoph Tochtrop with Vinson.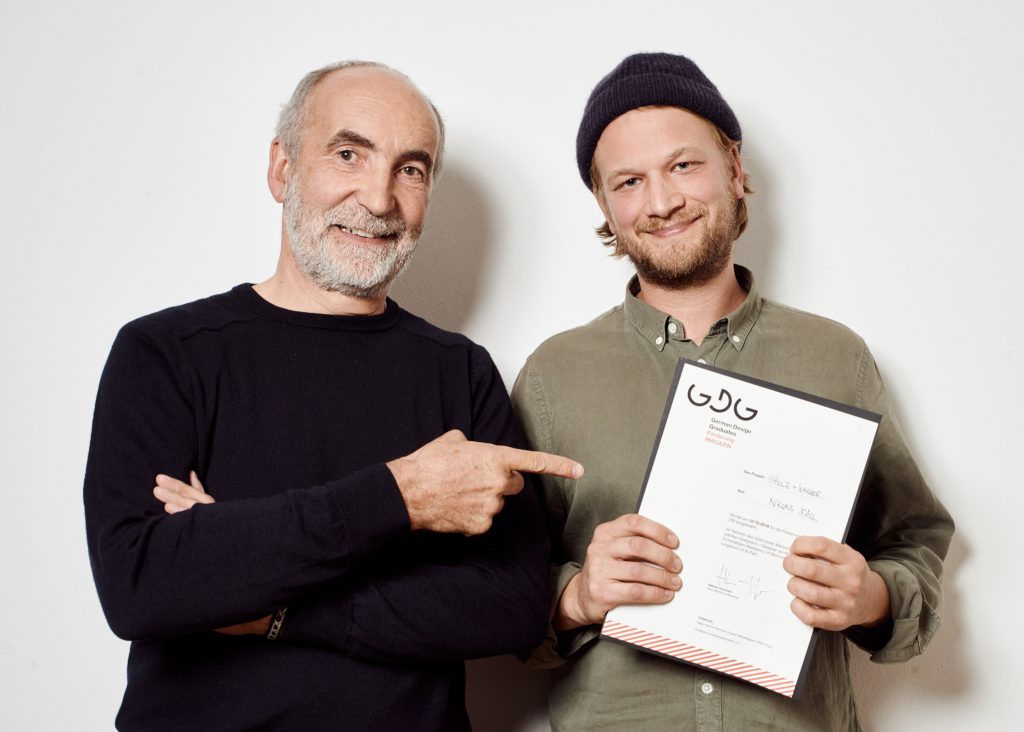 3-month Design Residency
Magazin product
development office
As part of the GDG, MAGAZIN offers a selected designer the opportunity of a 3-month residency at the Berlin product development office in the B-Part.
Stephan Dornhofer (Managing Director Magazin) and the product development team will select and announce a graduate for the residency on the opening day of the exhibition.
MAGAZIN offers an intensive insight into the market maturity of an M product from the selection to the various development steps to the market launch. Through this participation in the team, we impart knowledge of material and its possible applications, insight into the procedural phases of product development from the idea sketch to the prototype as well as knowledge of implementation to market maturity.
Magazin selected Niklas Böll with his project Holz und Wasser.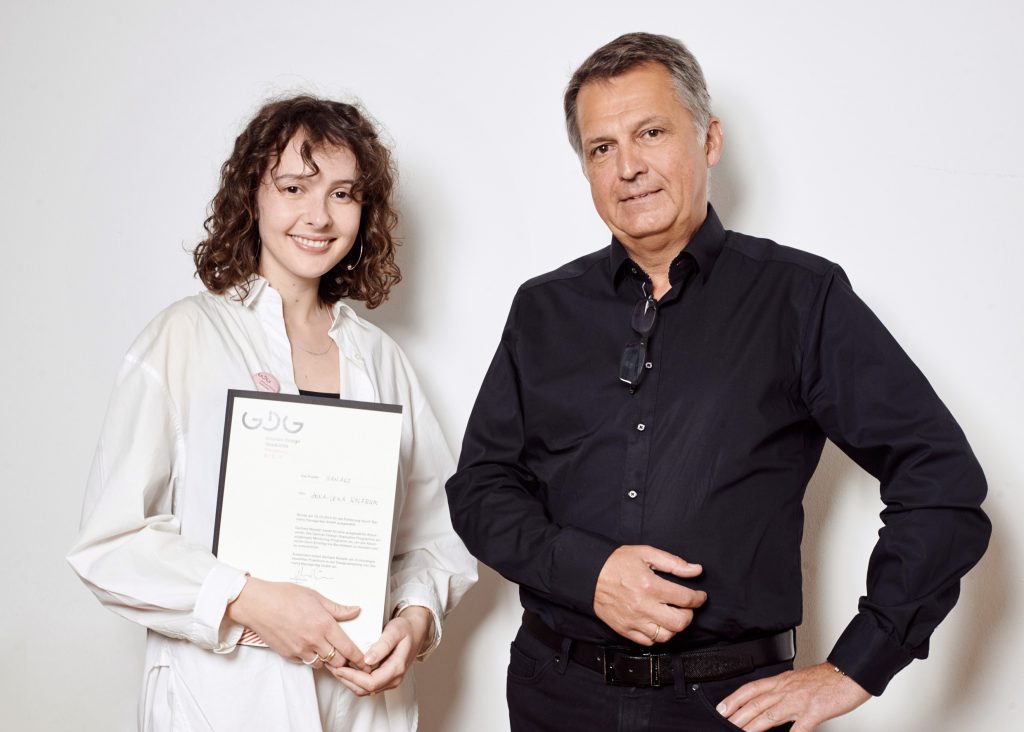 One-year mentoring program +
Three-month paid work commitment
Bosch Siemens Group
As part of the Siemens Home Appliances Design Award 2016, Siemens has launched a mentoring program for the winners of the Siemens Design Award.
Gerhard Nüssler offers a one-year mentoring program for one graduate of the German Design Graduates program to advise and support the graduate in his or her entry into professional life.
He also offers a 3-month paid internship in the design department of Siemens Household Appliances.
Selected was Anna-Lena Wolfrum with her Project Hanako.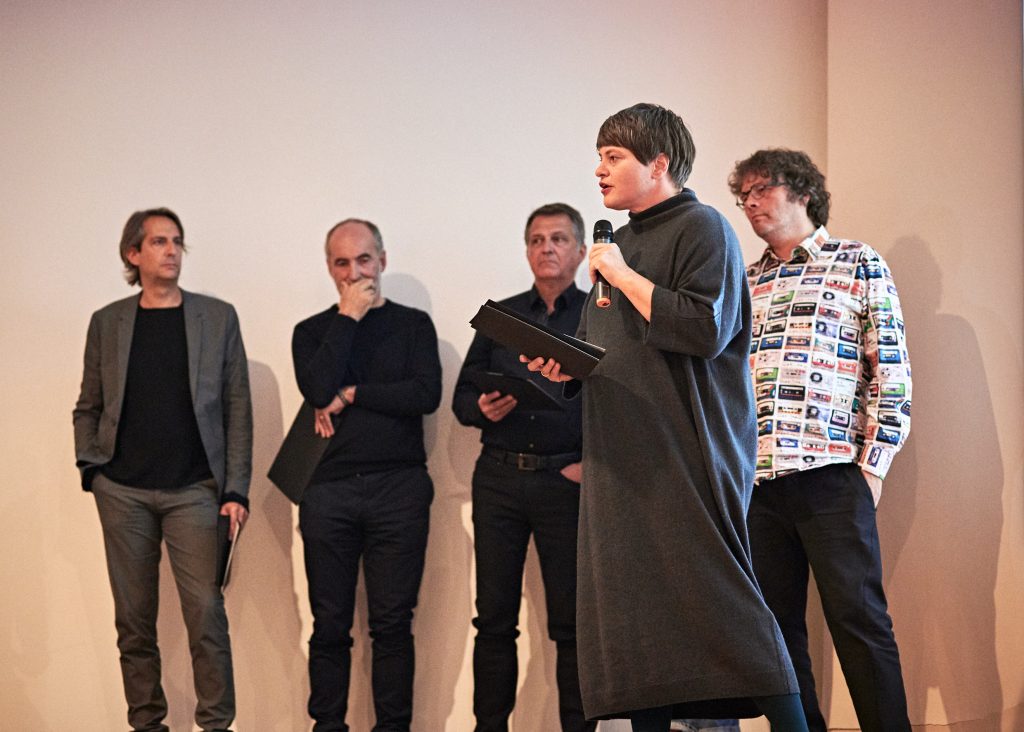 Coaching for 2 Graduates
Nicola Stattmann
For two graduates who submitted their final thesis to the GDG-archive in 2019 (it doesn't have to be the exhibitors) I would like to take 2 hours each to talk to them about their project.
This can be an input into material technology production as well as project implementation and marketing. I will individually choose the projects that I want to support from the archive.
Johannes Rühle with Camping / Nomadening and Max Löw with Companion were selected. Both candidates were selected from the archive by Nicola Stattmann.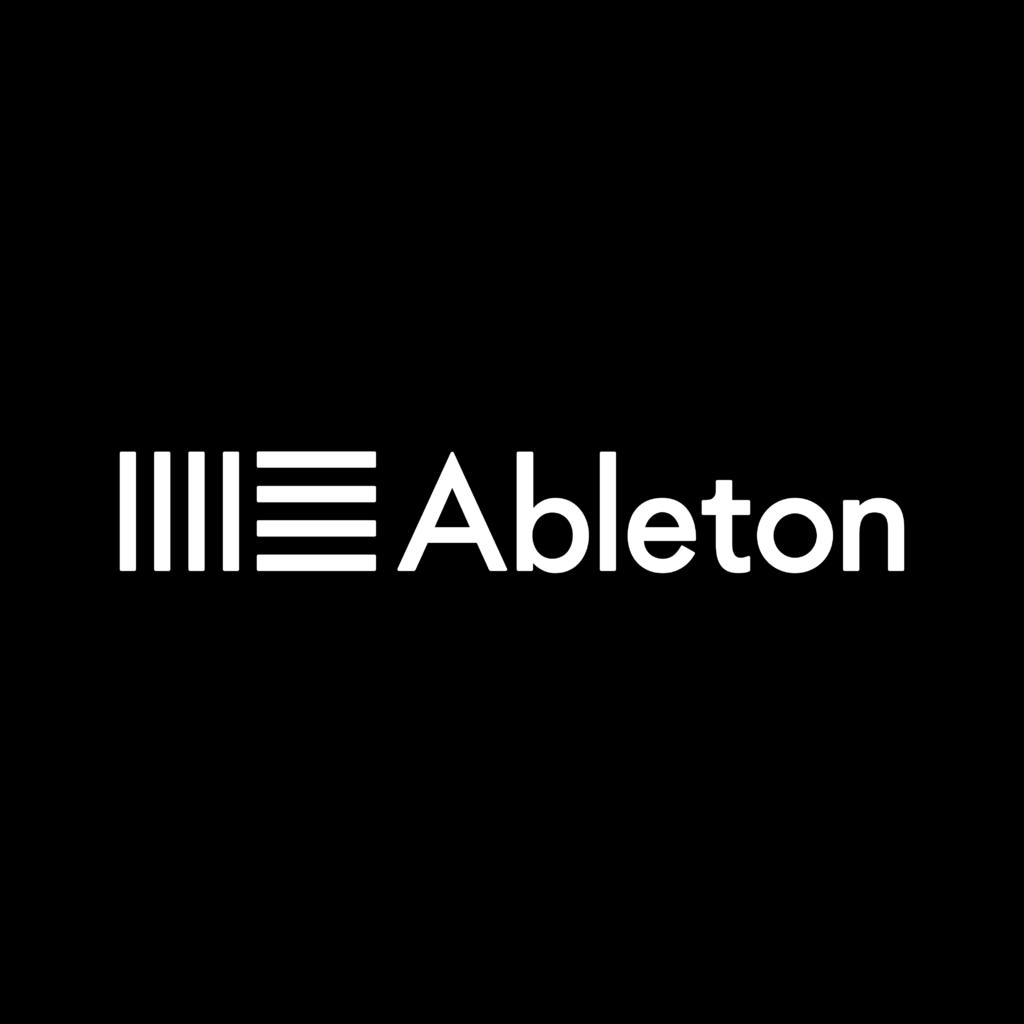 Six-month work commitment
Ableton
As part of the GDG, Ableton offers an industrial designer a position in its hardware team in Berlin for a six-month paid work commitment.
Our Hardware Team is developing the next generation of Ableton products. As part of your internship, you will help the team understand problems and find solutions for creative musicians. For you, this is a chance to work on real projects and be involved in all steps of the design process from prototyping to final production.
Selected was Nicolai Thoma with his project Ecstasequence.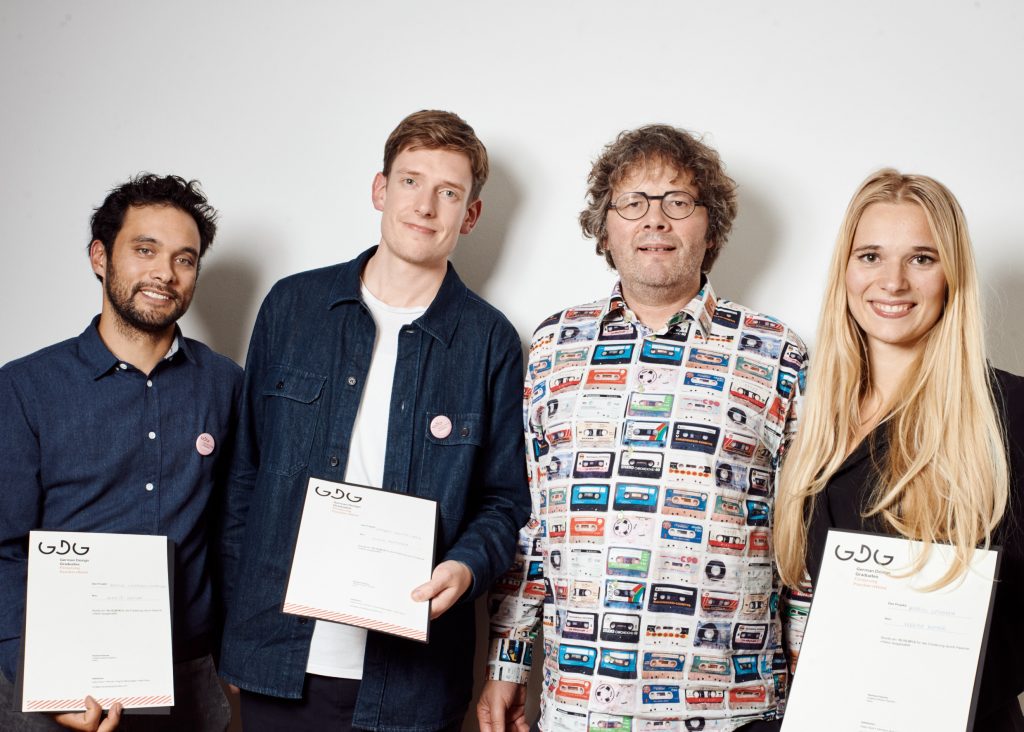 Six-month work commitment
Pascher+Heinz
Within the framework of the GDG, Pascher+Heinz offers a selected designer the opportunity of a six-month internship in Munich's Pascher+Heinz Stadium.
On the opening day of the exhibition, Reinhard Pascher will select and announce a graduate for an internship or a junior design position.
Selected were Moritz Aznan with Aerial Camera Controller, Simon Frambach with Dynamic Folding Chair and Verena Hutter with Moebius Speaker.
Supports Designpress
Magazines, newspapers, online platforms, journalists and bloggers write portraits of selected graduates all year round to draw attention to the German Design Graduate Show with its off- and online channels as well as social media. We also talk to the international press.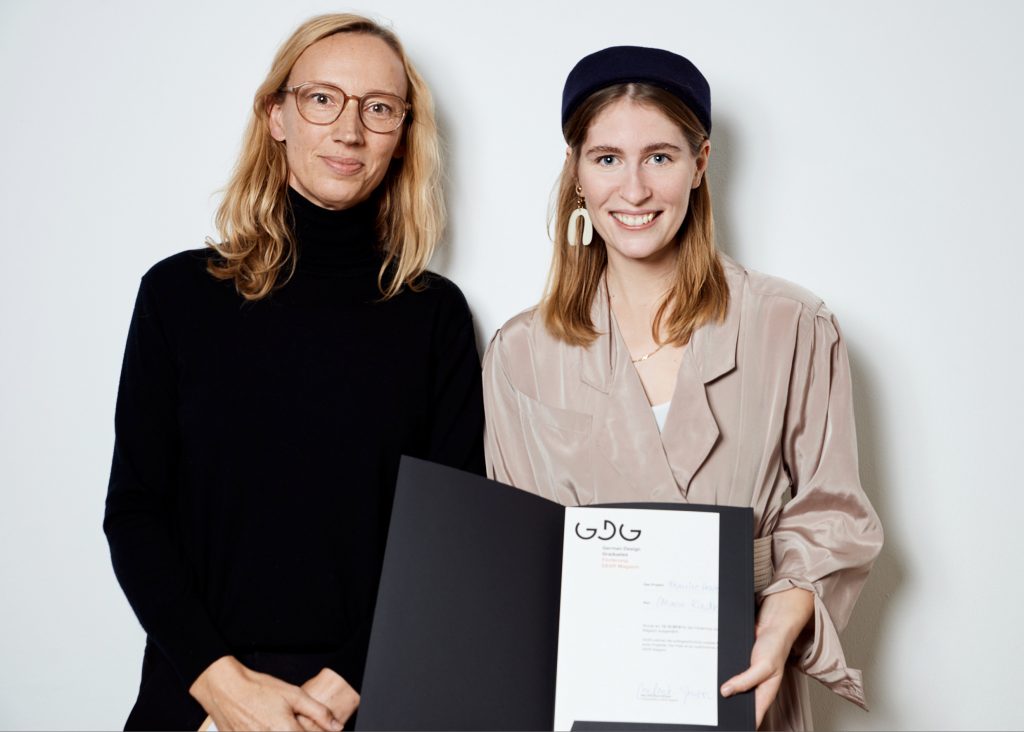 Features on
DEAR Magazin
As a specialist medium, we are media partner and happy to support the initiative German Design Graduates 2019, with which aims to create public and specialist attention for graduates at German design colleges with an archive and an exhibition.
In addition, DEAR will award a prize for the extraordinary media presentation of a project. The prize is a detailed feature in DEAR Magazine.
Selected was Marie Radke with her project Familie Hempel.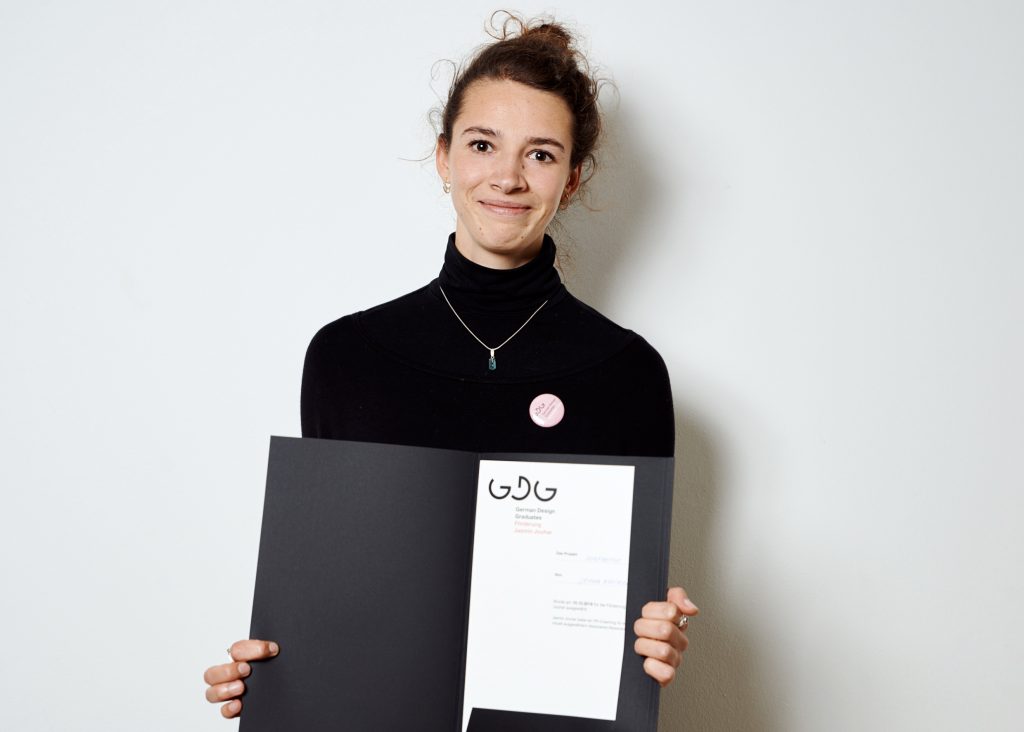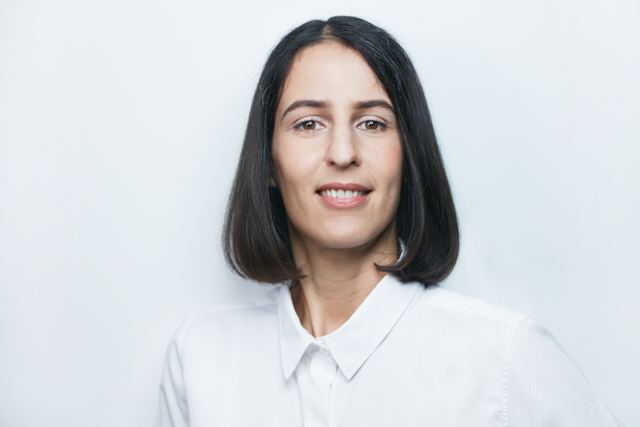 PR Coaching with
Jasmin Jouhar
Young design has been one of her favourite themes for many years. Jasmin Jouhar knows exactly how important it is for graduates to be able to present their work to a larger audience. She was therefore immediately enthusiastic about the German Design Graduates 2019 initiative and is pleased to be able to accompany the activities with publications in various media.
In addition, Jasmin Jouhar offers a PR coaching for an individually selected graduate.
Selected was Jonna Breitenhuber with Soapbottle.