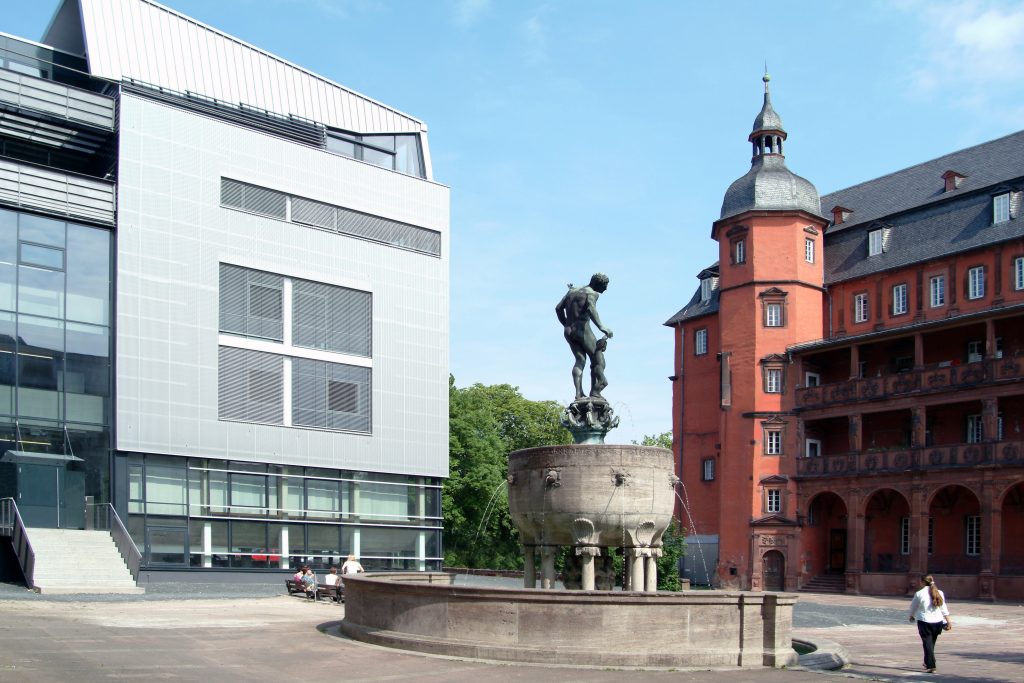 HfG Hochschule für Gestaltung
Offenbach am Main
Schlossstraße 31
63065 Offenbach am Main
T +49(0)69.80059-0
hfg-offenbach.de
Hochschule für Gestaltung Offenbach
The Hochschule für Gestaltung (HfG) Offenbach is the Hessen State University of Art and Design since 1970. Its tradition stretches back to the year 1832. Taking its lead from the educational and research models adopted by the Bauhaus and Hochschule für Gestaltung, the University of Design at Ulm, the teaching at HfG Offenbach is future-oriented and largely based on individual supervision and mentorship. Fine Art, Media and Design are taught using a modular structure, culminating in a Diplom, a degree.
The course contents of the school of design prepare students for the far-reaching changes in the professional field. In addition to the experimental creative activity of the designer personality, product designers must also increasingly act as process-oriented, networked experts for product development and product communication. With the theoretical competence of the school – which developed the theory of product language in the 1980s as the first design theory based on scientific theory – the communicative dimension of design is further developed. New technologies, processes and procedures (such as nanotechnology or bionics) require creative intelligence and a new product language in order to make them clear and understandable for users.
The range of courses mediate the necessary complex artistic, theoretical, technological and creative skills of the professional field and offer students perspectives for dealing with future fields of activity (integrative design, strategic design, visualization and materialization), in particular the requirements in technological-experimental fields.
Research and Teaching
Since April 2010, the HfG Offenbach has been offering a doctorate (Dr. phil.). Research and teaching focus on the interactions between theory and practice of design, the interdependencies between experiment and work, as well as new and old imaging and shaping techniques. The promotion of communicative intelligence, the ability to design independently and the development of aesthetic-intellectual maturity are essential educational contents.
The aim of the HfG is to train artists and designers who are up to the demands of a constantly changing landscape of fields of activity. For them, it is not just a matter of being reactive, but of shaping and characterizing developments in culture and society.
In addition to international networking and exchange programs, a special feature of the studies is the high theoretical content in both departments.
GDG – Submissions
More about the projects on the Graduates Platform
2022
Niels Stähly
Hui Qu
Klea Schlimm
Yujin Kang
Felix Pape
Dylan McGuire
Philipp Kleine
Yudan Chen
Annika Storch
Si Han Ho
Maurice Riegler
Lennard Wilde
Steffen Strehl
Clara Brandt
Yuqin Wu
Hannah Weirich
2021
Charlotte Moch
Xuan Liu
Marius Dittmar
Emilie Burfeind
Thomas Jäger
Janika Jürmann
Wilhelm Lange
Florian Hundt
Julia Huisken
Frédéric Kreutzer
Paul Hothmer
Andreas Grzesiek
2020
Yuya Watanabe
Yulia Stern
Valentin Teutrine
Pablo Ignacio Clara
Martin Stegmaier
Till Magnus Maurer
Hyungkwon Kim
Daniel Rese
Yu-cheng Lin
2019
Shana Puid
Nadine Auth
Constanze Leuchtmann
Helga Reinsch
Mervyn Bienek
Tiantian Xu
Bennet May
Kai Dreyer
Jakob Georg Resch
Frauke Zoe Taplik
Karlotta Klußmann
Christian Bax
Shanhui Huang
Lena Huber