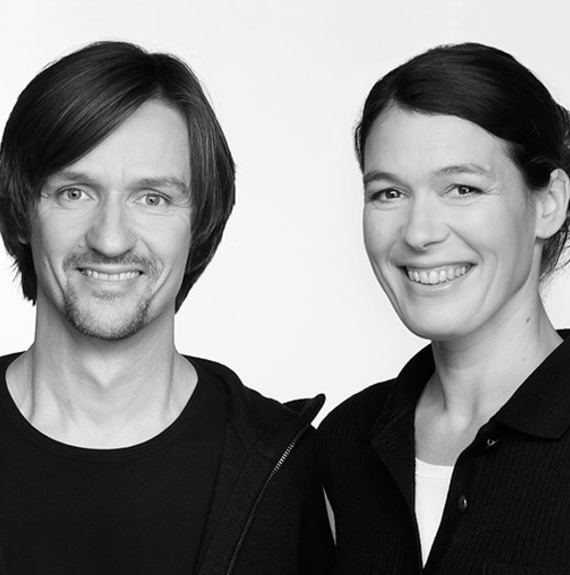 About LÄUFER & KEICHEL
LÄUFER & KEICHEL is a creative partnership between Julia Läufer and Marcus Keichel. The pair have been working together since 2003. Their studio is located in the heart of Berlin. Focusing on sustainable design solutions, their disciplines range from furniture design and industrial design, through exhibition to corporate and communication design for clients as Best (Italy), GASAG (Germany), Kristalia (Italy), Küppersbusch (Germany), Lammhults (Sweden), La Palma (Italy), Martela (Finland), Offecct (Sweden), Thonet (Germany), Wilkhahn (Germany), Zeitraum (Germany) and others. Their work has been internationally exhibited, published and awarded.
JULIA LÄUFER was born in Freiburg in the South of Germany. She studied fashion and textile design at St. Martin's School of Arts in London, and at the University of the Arts in Berlin. During her studies she worked at Christian Dior in Paris, Apropos in Zürich and at the Stadttheater in Freiburg. Later on, she was a product manager for the fashion label Street One. She also had spells as a camera assistant and assistant director, including projects with Serge Roman and Stanley Kubrick.
After these experiences, Julia went back to working in the design field as an art director in communication before founding the studio with Marcus. From 2017 to 2019 she taught as a visiting professor for product design at the FHP University of Applied Sciences in Potsdam.
MARCUS KEICHEL was born in Frankfurt/Main. He studied industrial design, architecture and cultural studies at the University of the Arts in Berlin. After graduating, he worked as a freelance product and communication designer before setting up the studio, Läufer & Keichel, with Julia. From 2008 to 2011 Marcus was also a guest professor at the University of the Arts in Berlin and University of Applied Science and Arts Hannover. Since 2016 he is professor for product design at HTW Dresden University of Applied Sciences.
Support
Julia Läufer and Markus Keichel offer project coaching for graduates.