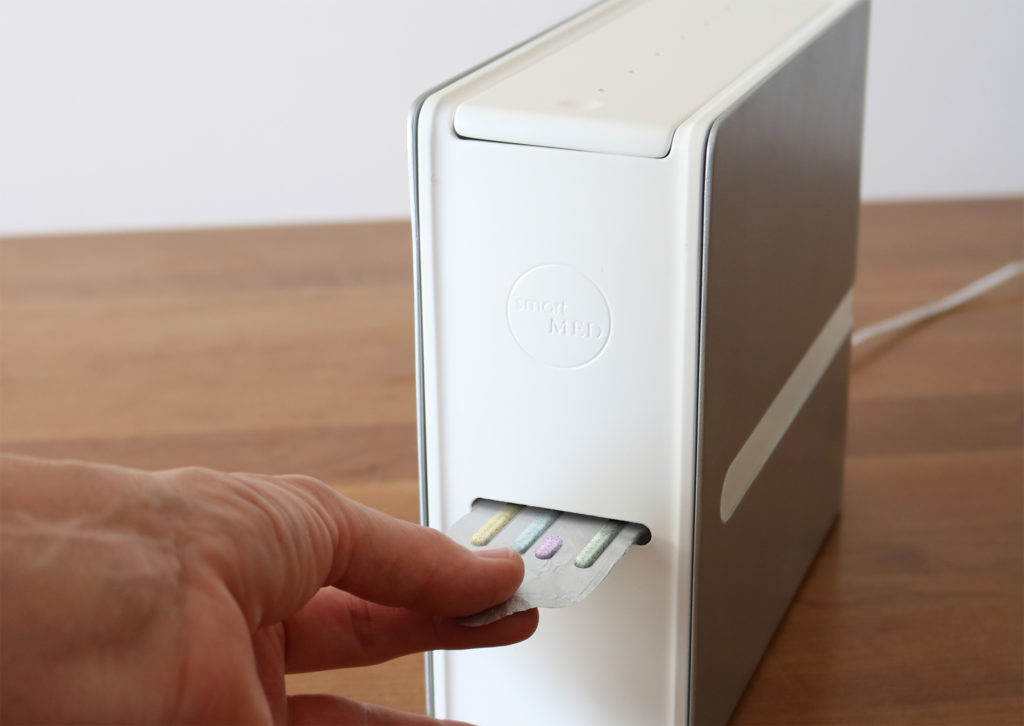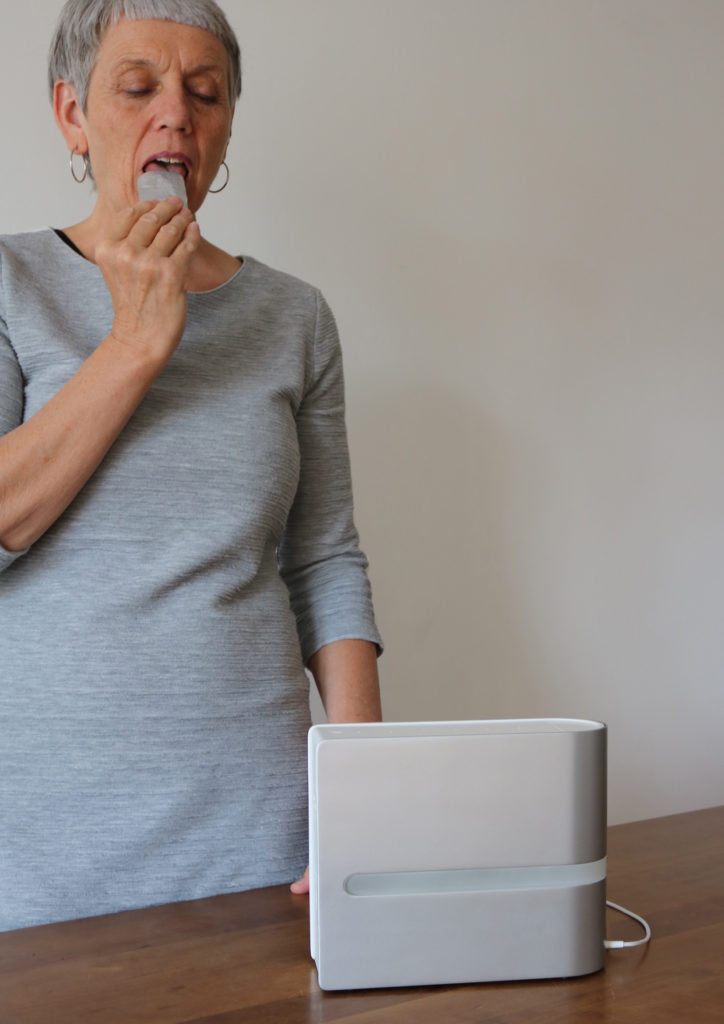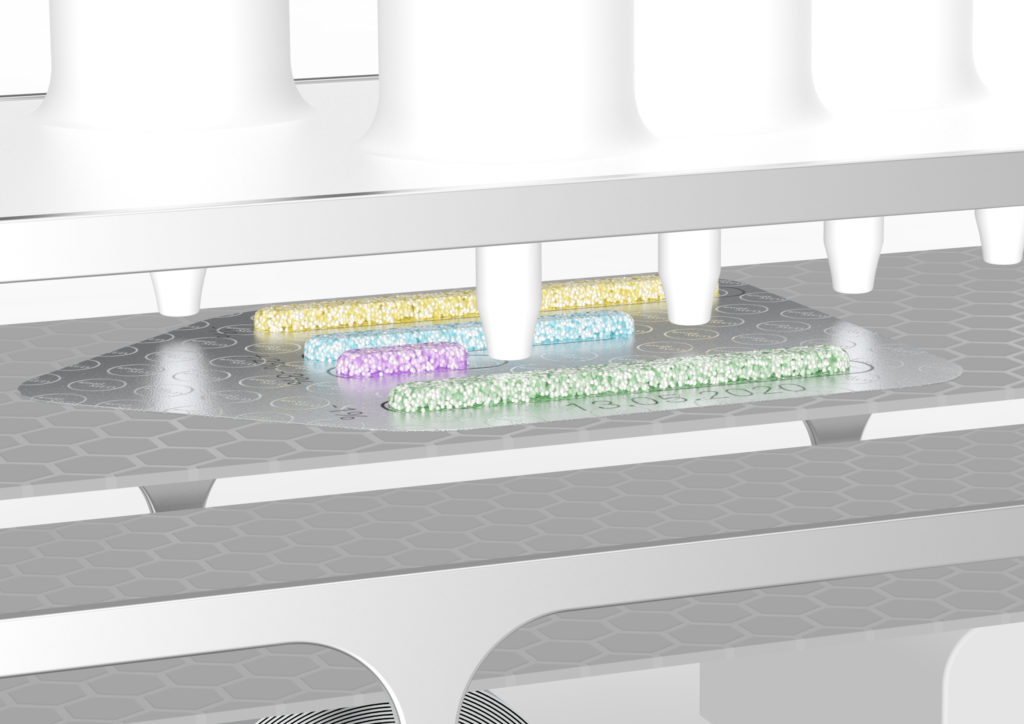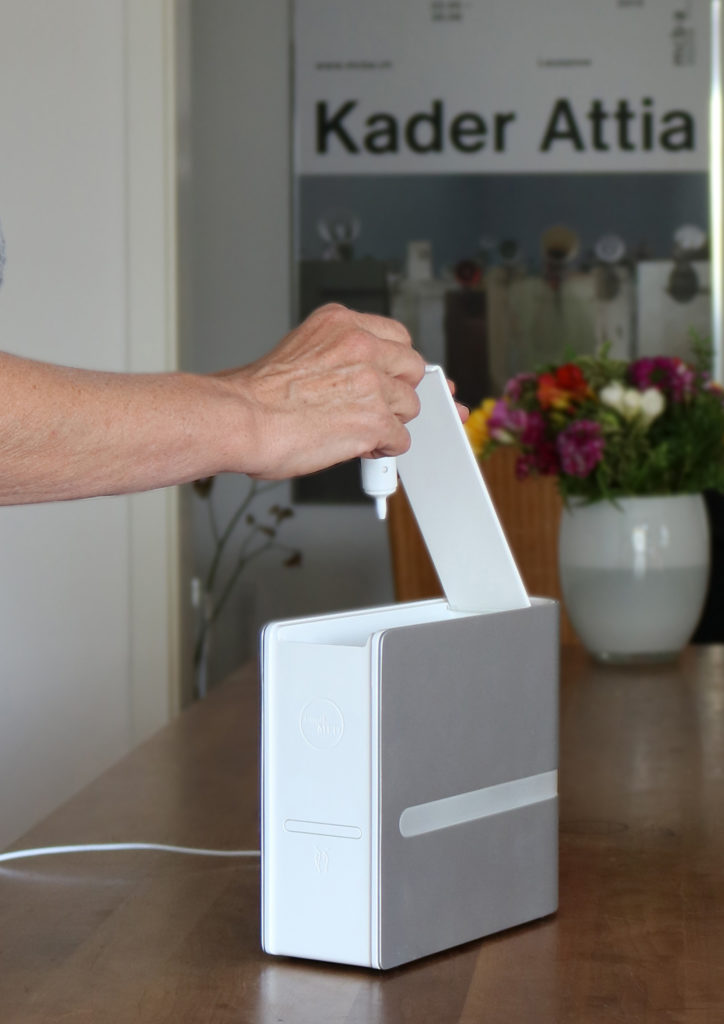 Smart Medication
Kilian Frieling
Juni / June – 2020
Muthesius Kunsthochschule Kiel
Was ist es?
Jeder Mensch ist unterschiedlich und braucht daher eine individuelle Behandlung: Smart Medication ist quasi ein 3D-Drucker für Medikamente, der diese passgenau dosieren kann.
Patienten mit einer sogenannten Multimorbidität müssen täglich oft viele verschiedene Medikamente einnehmen. Smart Medication ermöglicht vor diesem Hintergrund eine Individualisierung der Medikamentenvergabe. Das Projekt beschäftigt sich mit den Möglichkeiten der Digitalisierung im Gesundheitswesen, wobei eine Art 3D-Drucker mittels Medikamentenkartuschen passgenaue Dosierungen auf eine Trägerfolie druckt. Mithilfe einer zugehörigen App kann der Arzt den Behandlungsplan in das Gerät einspeisen, den Behandlungsverlauf kontrollieren und mit dem Patienten kommunizieren.
Welche Rolle hat Designforschung gespielt?
Für den Produktdesigner Kilian Frieling ist Designforschung im Bereich von Medical Design ein wichtiger Prozess, um gute, nutzerzentrierte Produkte entwerfen zu können. Eine tief greifende Recherche und Analyse der einzelnen Akteure und Umstände sowie der sozialen Zusammenhänge und Auswirkungen des resultierenden Produkts auf die Gesellschaft, haben einen starken Einfluss auf die Gestaltung. Im Rahmen eines Praktikums bei der Firma Dräger wurde der Designer gefragt, ob er ein Pillenverteilungsgerät gestalten wolle; er hat dann die Fragestellung in Richtung der heute sehr relevanten Individualisierung von Medikamenten geändert. Die körperliche Belastung durch Fehlmedikation und die Wechselwirkungen von Medikamenten können schwere Schäden verursachen. Nicht selten ist das Problem aber auch, dass Medikamente gar nicht erst eingenommen werden. Die sogenannte Medikamententreue bei chronischen Krankheiten im Alter liegt aus verschiedenen Gründen gerade einmal bei 50 Prozent. Mit Smart Medication ist es nun nicht nur möglich, individuelle Medikamente zu "drucken", sondern auch das unangenehme Schlucken vieler und unter Umständen großer Tabletten fällt weg, da die Medikamente über das Ablecken der Trägerfolie aufgenommen werden.
Die Masterarbeit versteht Kilian Frieling selbst als Spezialisierung auf den Bereich Digitalisierung im Gesundheitswesen und gleichzeitig als Wissensgrundlage und Ausgangspunkt, um in diesem Bereich auch in der Zukunft weiter tätig zu sein. Das Ergebnis seines Masterprojekts möchte er gerne weiterführen, der nächste Schritt hierzu ist die Zusammenarbeit mit Wissenschaftlern, um ein Bindemittel zum Drucken der Medikamente zu entwickeln sowie ein passendes Druckverfahren zu identifizieren.
Warum das Projekt nominiert wurde?
Kilian Frieling hat sich mit dem Thema Digitalisierung im Gesundheitswesen gleich mit zwei komplexen Themenfeldern auseinandergesetzt. Darüber hinaus geht es nicht darum, einfach immer mehr Produkte zu entwerfen, sondern sich damit zu befassen, was die Zielgruppe wirklich benötigt. Eine Gesellschaft, die immer älter wird und für die das Thema Medikamenteneinnahme eine große Rolle spielt, hat als Zielgruppe für nutzerzentrierte Produktentwicklung bisher eher wenig Beachtung gefunden. Smart Medication lenkt den Fokus von der Gewinnsteigerung der Pharmakonzerne zurück auf die Zielgruppe. 
CV
Kilian Frieling ist Industriedesigner mit einem Fokus auf Designprojekte an der Schnittstelle von Digitalität und Industriedesign. Er arbeitet mit Methoden aus dem Bereich User-centered Design, Kreativitätstechniken und der Neugestaltung von Designprozessen. Nach seinem Produktdesignstudium an der Uni Bozen mit Auslandsaufenthalten in Kyoto und Eindhoven, arbeitete er als Designer mit einer Spezialisierung auf Table Top-Produkte bei Matteo Thun in Mailand. Im Anschluss absolvierte er sein Masterstudium an der Muthesius Kunsthochschule Kiel bei Detlef Rhein, sowie am National College of Art and Design in Dublin im Bereich Medical Design. Seit Juli 2020 arbeitet er als Freelancer an der Weiterentwicklung seiner Masterthesis sowie an einem Atemmaskenprojekt.
What is it?
Everyone is different, so everyone needs personalised treatment. Smart Medication is effectively a 3D printer for medications that can tailor each dose to the patient's needs.
Multi-morbid patients – that is, those with multiple conditions – often have to take many different medications every day. With this in mind, Smart Medication enables the personalised administration of medications. The project makes use of the possibilities offered by digitisation in the healthcare sector, enabling a type of 3D printer equipped with medication cartridges to print tailored dosages onto a carrier foil. With the help of an accompanying app, the doctor can enter the treatment plan into the device, check the course of treatment and communicate with the patient.
What role did design research play?
For product designer Kilian Frieling, design research in the field of medical design is an important part of the process of developing good user-centred products. In-depth research and analysis of the players and circumstances involved, as well as of the social contexts and the effects of the resulting product on society, have a significant impact on the design process. During a n internship at Dräger, a manufacturer of medical and safety products, the designer was asked whether he would like to design a pill-dispensing device. However, he reframed the project towards the pressing question of personalised medication. The physical stresses caused by medication errors and by the interactions between different drugs can cause serious damage to the body. In addition to this, it is not uncommon for medications not to be taken in the first place. For various reasons, compliance with medication regimes in old age is just 50 per cent. Smart Medication not only makes it possible to "print" individual medications, but also eliminates the need to swallow multiple and sometimes large pills, as the medications are taken by licking them from the carrier foil.

Kilian Frieling himself sees the work he has done for his master's project both as a specialisation in the field of digitisation in the healthcare sector and as a foundation of knowledge and starting point for future work in this field. He wants to continue building on the results of his master's project. The next step in doing so is collaborating with scientists to develop a binding agent for printed medications and to identify a suitable printing process.
Why was the project nominated?
By addressing the topic of digitisation in the healthcare sector, Kilian Frieling has tackled two complex fields at the same time. Beyond that, the point is not simply to design more products, but to identify what the target group really needs. Until now, our increasingly ageing society – in which the issue of medication intake is of significant importance – has received little attention as a target group for user-centred product development. Smart Medication shifts the focus away from increasing pharmaceutical companies' profit margins and back to that target group.
CV
Kilian Frieling is an industrial designer who focuses on design projects at the intersection of the digitisation and industrial design. He works with methods from the field of user-centred design, creativity techniques and the restructuring of design processes. After completing his studies in product design at the University of Bozen, which included time studying abroad in Kyoto and Eindhoven, he worked as a designer specialising in tabletop products at Matteo Thun in Milan. Following this, he completed his master's degree in the area of medical design with Detlef Rhein at the Muthesius University of Fine Arts and Design in Kiel as well as at the National College of Art and Design in Dublin. Since July 2020, he has been working on further developing his master's thesis and on a respirator mask project.