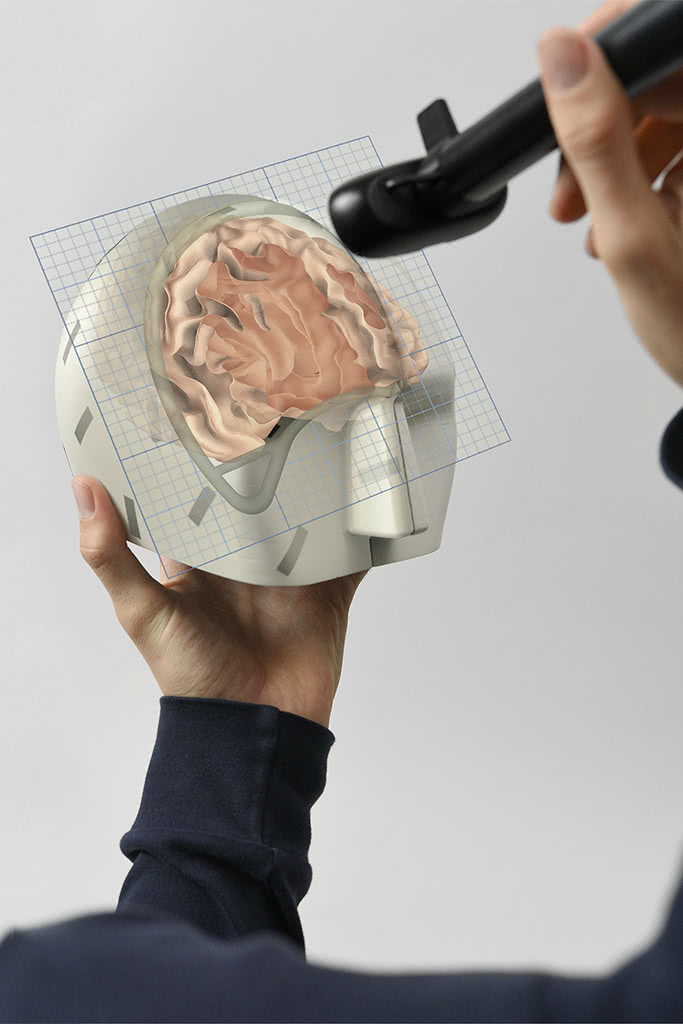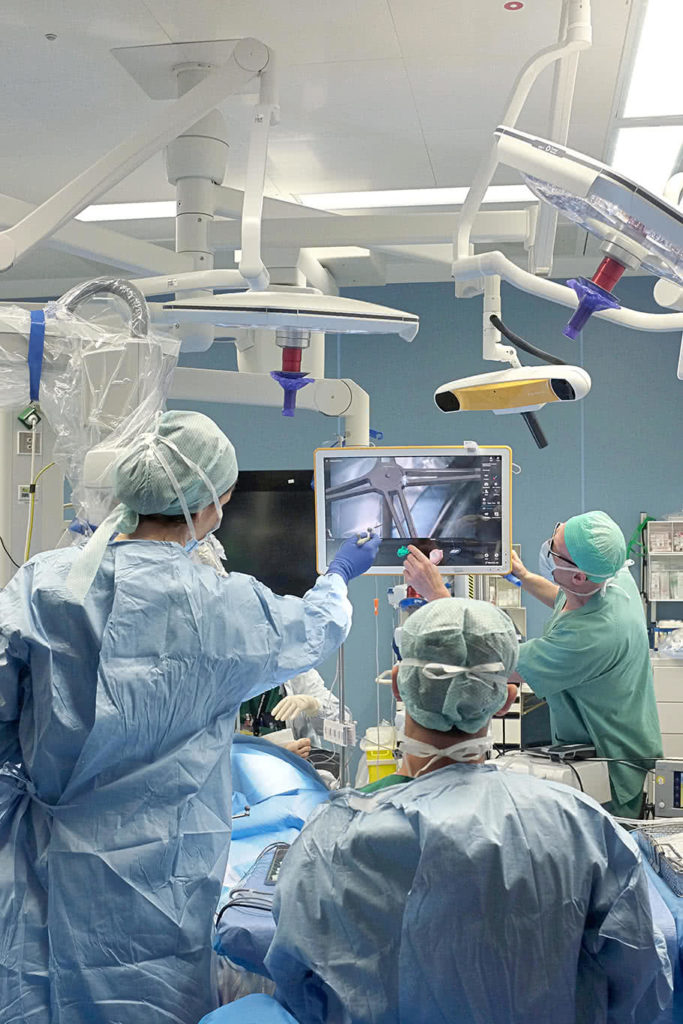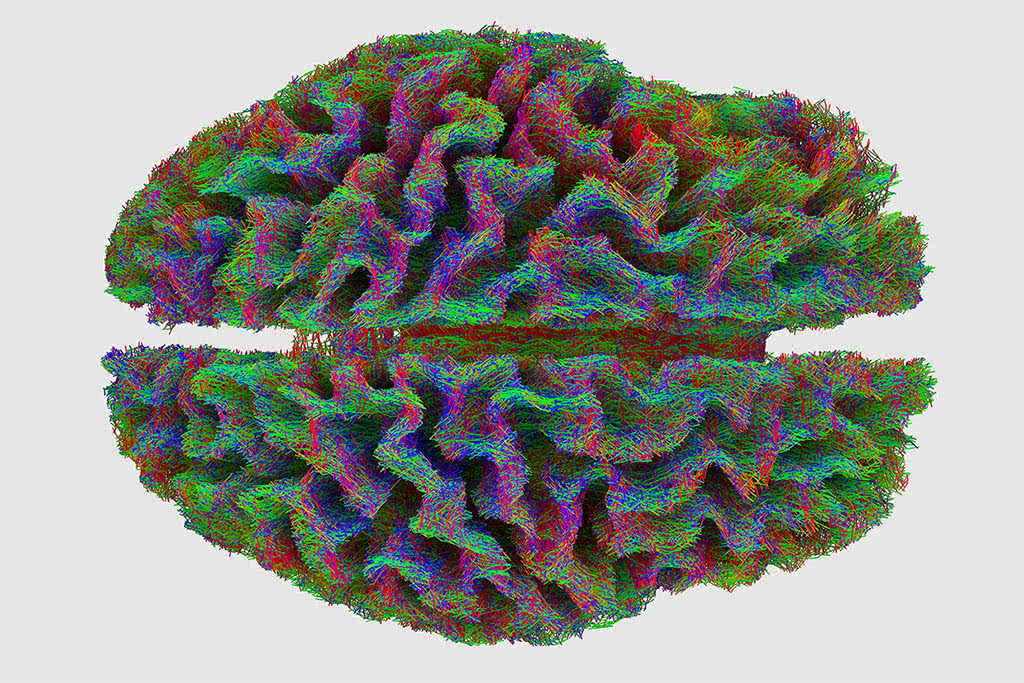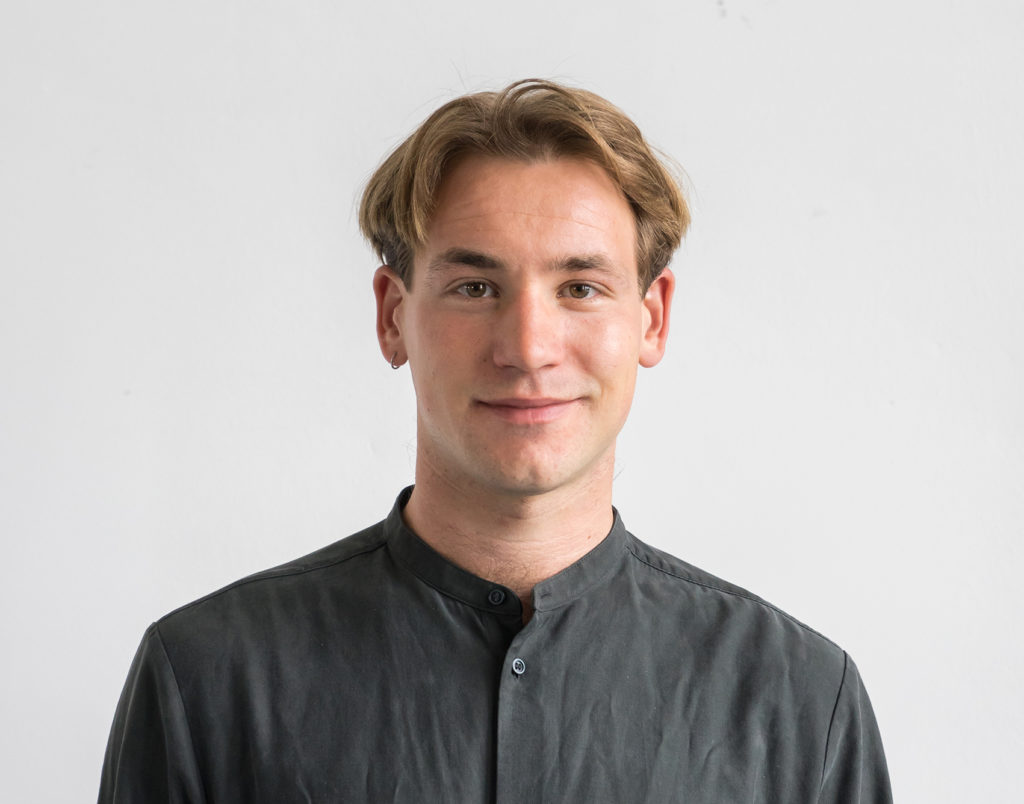 Digital Twin
Felix Rasehorn
Oktober / October – 2019
Weißensee Kunsthochschule Berlin
Was ist es?
Digital Twin ist eine angewandte Recherche zur Darstellung und Erfahrung von Hirnmasse im Kontext neurochirurgischer Eingriffe, mit dem Ziel den OP-Planungsprozess als ein Feld des Probehandelns zu nutzen.
Das menschliche Gehirn ist anatomisch hochkomplex und doch bisher noch wenig verstanden. An der Charité Berlin arbeitet ein interdisziplinäres Team an neuen Methoden zur Darstellung und Analyse des Gehirns. Bildgeführte operative Eingriffe sind mittlerweile Standard, doch der Planungsprozess findet überwiegend digital und bildschirmbasiert statt. Das Designforschungsprojekt Digital Twin ist eine interdisziplinäre Recherche zum Planen neurochirurgischer Eingriffe mittels hybrider Werkzeuge und untersucht dabei den Bedarf an physischen Repräsentationen und OP-ähnlichen Werkzeugen im Planungsprozess.
Welche Rolle hat Designforschung gespielt? Bereits während seiner Ausbildung an der Weißensee Kunsthochschule Berlin hat sich der Gestalter Felix Rasehorn besonders für das Experimentieren interessiert. Während seiner Masterarbeit wurde dann außerdem der Austausch mit anderen forschenden Disziplinen relevant – mittlerweile ist ihm das Forschen durch Design in Fleisch und Blut übergegangen. Mit den Potenzialen digitaler Realitäten beschäftigt sich Felix Rasehorn bereits seit circa drei Jahren, dabei interessiert ihn besonders, wie sich Augmented und Virtual Reality-Technologien in der Wissenschaft einsetzen lassen, um Wissen und Erfahrungen zu teilen. Über seine Professorin Carola Zwick kam dann die Kooperation mit dem Image Guidance Lab (Neurochirurgie) der Charité Berlin sowie der Fokus auf den neurochirurgischen Planungsprozess zustande.
In der Neurochirurgie besteht ein dringender Bedarf, neue Lösungen für die Betrachtung und Interaktion mit 3D-Daten zu finden, da die Möglichkeiten eines chirurgischen Eingriffs durch die Visualisierung der Pathologie vor und während der Operation bestimmt werden. Mit Digital Twin sind funktionale Prototypen entstanden, die ein Durchspielen des Planungsprozesses erlauben und dabei den Chirurgen ermöglichen, ihr Feld lang erlernter und hoch professioneller motorischer Verhaltensweisen (embodied cognition) zu erschließen. Vorzugsweise wurden in der Recherche räumliche und werkzeugzentrierte Interaktionen untersucht, die das Ziel haben Chirurgen samt Team ein gemeinsames mentales Modell des Eingriffs zu ermöglichen. Der Ansatz, AR-Technologien und hybride Werkzeuge zur Stärkung des mentalen Modells des Chirurgen vor dem Eingriff einzusetzen, um visuelle Geräusche durch überlagernde Visualisierungen während der Operation zu reduzieren, stellt einen möglichen Paradigmenwechsel dar und sollte weiter erforscht werden.
Warum das Projekt nominiert wurde?
Felix Rasehorn gelingt es mit seiner Arbeit an der Schnittstelle von Gestaltung und Medizin eine essenzielle Rolle beim Transfer und der Vermittlung von Wissen einzunehmen. Darüber hinaus nutzt er seine gestaltungspezifischen Fähigkeiten, um neue Prozesse für die komplexen Arbeitsabläufe von Chirurgen mitzugestalten. Die Visualisierung von Daten und Szenarien trägt dabei maßgeblich zu einer zukunftsorientierten Integration bereits bewährter Technologien bei und ermöglicht voraussichtlich außerdem auch die Verbesserung der medizinischen Ergebnisse für betroffene Patienten.
CV
Felix Rasehorn hat von 2013 bis 2017 an der Weißensee Kunsthochschule Berlin seinen Bachelor in Produktdesign sowie von 2018 bis 2019 seinen Master im Interaktionsdesign erworben. In dieser Zeit hat er darüber hinaus auch ein Austauschsemester an der Mimar Sinan Güzel Sanatlar Üniversitesi in Istanbul absolviert. Seit 2020 ist er künstlerischer Mitarbeiter am Exzellenz-Cluster "Matters of Activity" der Humboldt-Universität zu Berlin, wo er sich im Rahmen eines Practice-based PhD unter anderem mit der Darstellung und Erfahrung von Hirnmasse im Kontext neurochirurgischer Planung auseinandersetzt und das Thema seiner Masterthesis weiterverfolgt. Darüber hinaus ist er seit 2019 Mitbegründer des WINT Design Lab.
What is it?
Digital Twin is an applied research project on the representation and perception of brain matter in neurosurgery procedures that aims to use the operation-planning process as an opportunity to mentally rehearse actions during surgery.
Despite having a highly complex anatomy, the human brain is still not well understood. An interdisciplinary team at the Charité hospital in Berlin is working on new methods for visualising and analysing the brain. Although image-guided surgeries are now the norm, the surgical planning process is still primarily carried out digitally and on computer screens. The design research project Digital Twin is an interdisciplinary project on the planning of neurosurgical interventions using hybrid tools. The project investigates the need for the planning process to include physical representations and tools similar to those used during surgery.
What role did design research play?
Back when he was studying at the Weißensee Academy of Art Berlin, designer Felix Rasehorn already had a special interest in experimentation. On top of that, the exchange with other research disciplines was important to his master's project. Now, carrying out research through design is second nature to him. For the past three years or so, Felix Rasehorn has dedicated himself to exploring the possibilities offered by digital realities. He is particularly interested in the ways that augmented and virtual reality technologies can be utilised in the sciences in order to share knowledge and experience. Both his collaboration with the Image Guidance Lab in the Department of Neurosurgery at the Charité hospital in Berlin and his focus on the neurosurgical planning process were facilitated by his professor Carola Zwick.

As the possibilities in surgical procedures are determined by visualisations of the pathology created before and during the operation, there is an urgent need to find new solutions for viewing and interacting with 3D data in neurosurgery. The Digital Twin project has resulted in the creation of functional prototypes that allow working through the planning process and enable surgeons to utilise their inventory of motor skills gained through long and highly specialised professional experience (embodied cognition). This primarily involves studying three-dimensional and tool-centred interactions with the aim to create a shared mental model of the surgical procedure for the surgeons and their team. This approach – implementing AR technologies and hybrid tools aimed at strengthening the surgeon's mental model prior to the intervention in order to reduce the visual noise caused by overlapping visualisations during the operation – represents a potential paradigm shift and is deserving of further research.
Why was the project nominated?
With his work at the intersection of design and medicine, Felix Rasehorn has managed to fill an essential role in the transfer and communication of knowledge. In addition to this, he is using his design skills to help develop new processes for complex surgical workflows. The visualisation of information and scenarios significantly contributes to the future-oriented use and integration of tried-and-tested technologies. Moreover, it may lead to improved outcomes for affected patients in the future.
CV
Felix Rasehorn completed his undergraduate degree in product design at the Weißensee Academy of Art Berlin from 2013 to 2017 and his master's degree in interaction design from 2018 to 2019. During this time, he also spent a study abroad semester at the Mimar Sinan Fine Arts University in Istanbul. He has been an artistic member of the "Matters of Activity" Cluster of Excellence at the Humboldt-Universität zu Berlin since 2020, where he is pursuing a practice-based PhD. Amongst other things, his research includes investigating the representation and perception of brain matter in the context of neurosurgical planning and further developing the topic of his master's thesis. Furthermore, he became a co-founder of the WINT Design Lab in 2019.